From an idea of Omar Santos, Santos Tattoo was born in 2008 in Gallarate, in the province of Varese.
VERSIONE IN ITALIANO
The constant evolution, passion and tradition make Santos Tattoo a studio that boasts a great artistic and working experience. Tattoo is a work of art and we think that you deserve all our professionalism. That is why from our Santos Tattoo you will find our resident artists and, rotating, some of the best tattoo makers in the national and international landscape.
RESIDENTS
OMAR SANTOS
An authentic artist, able to pass emotions on the skin, Omar was born in Peru and in 2008, 10 years after he started tattooing, he opened his studio at Gallarate. His travels to Polynesia allow him to know the perfection of the style and meaning of the style to which he is dedicated, preferring the Marchesano and Samoan styles he loves most. Among his travels he often includes a stage in Eindhoven, Holland, but he is also in Milan City Ink, and is often present at the most important European conventions. Omar lavora freehand, thereby giving, to the many customers who come from all parts of Italy and Northern Europe, traditional pieces, and of course unique. One of the greatest satisfactions of his career, the recent second place at the convention in London, the most important convention in the world.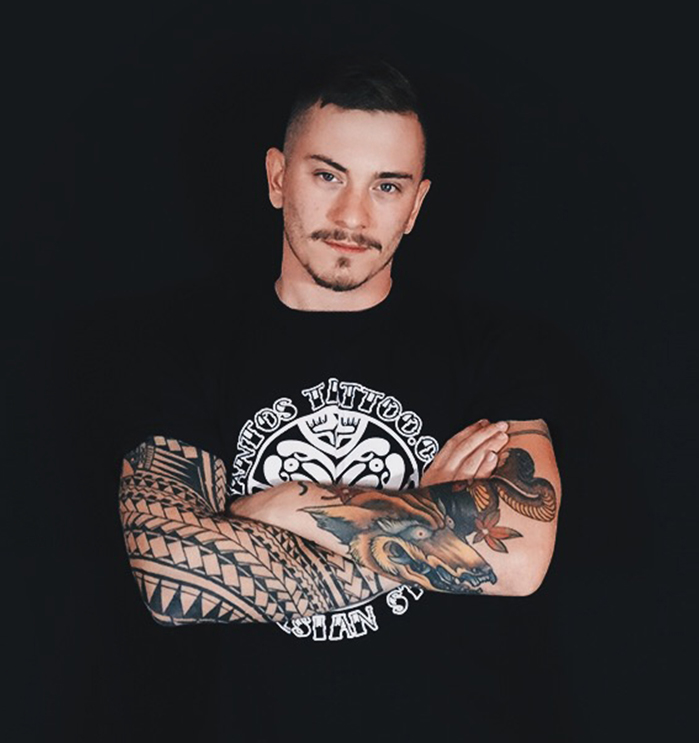 LUCA PUNCH
Born in 1990, graduated from the Art School, Luke Punch Marchesoli shows immediately a great passion and dedication to the art of tattoo. In 2013 he arrives at Santos Tattoo where he finds his way: that of Japanese tradition. Luke studied constantly to develop a personal style and that will take him, thanks to the strong ambition that sets it apart, to reach the perfection of his greatest landmarks, the masters of the art of Japanese tattoo.
IL RANZA
Il Ranza begins his tattoo career in 2012, but art has always been part of his life. After a period of apprenticeship in a famous studio in Milan, Omar, who's a world renowned tattoo artist, decided to call Il Ranza to work by his side. With him he started approaching the Neotraditional current, which is a technique that blends realism to the traditional, which is distinguished in particular for "clean lines, warm colors and soft shades".
MATTEO GENNA
Born in 1990, Matteo Genna was born in a small village in the province of Varese. The desire to escape from normality and convention led him to approach the Italian electropunk scene, which had a great influence on him. He is thus approaching the world of body piercing and body modification in 2010, and after having worked for years in renowned studios throughout the Lombardy, in 2013 he comes to Santos Tattoo.
MIGUEL RODRIGUEZ
Miguel Rodriguez was born in Colombia and moved to Italy in 2016. When he was only 16 years old he faced the world of tattoos for curiosity. Thanks to Master Andres his desire to discover became passion, in fact he has never left his tattoo machine since then. Miguel loves his job because he is able to help his clients turn ideas into reality! Miguel believes it has been important to know colleagues from various studios, because this fact allowed him to improve his artistic techniques more and more. He hopes that one day he'll be able to help and inspire other artists.